Elizabeth and Hazel: Two Women of Little Rock
Captured by the camera's eye, two Arkansas women have never been able to escape a historic photo – or each other.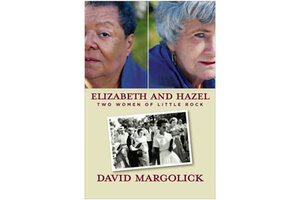 The other eight black students got the message the night before the big September day in 1957: We're going together to Little Rock's Central High. But no one remembered to tell a quiet and brainy 15-year-old who wanted to go to a better school so she could have a better life, maybe even become a lawyer. So she walked to campus alone, meeting a vicious crowd of white faces and wicked words.
"For the moment," writes David Margolick in Elizabeth and Hazel: Two Women of Little Rock, his powerful and extraordinary new book, "she was the Little Rock One."
"Don't let her in!" someone in the crowd shouted. Casting her eyes around in fear, Elizabeth Eckford sought help from an old white woman, who returned her desperate glance with a gob of spit.
More insults. More threats. "Lynch her! Lynch her!" A curvy young woman in a tight dress spouted the n-word. She opened her mouth again. "Go back to Africa!"
Hazel Bryan looked like an adult, but she was actually only 15, too, a girl obsessed with boys and movie stars. She was caught up, she later said, in the moment. "As soon as her words had dissolved in the torpid September air, she had forgotten all about them."
Hazel went to play hooky. Elizabeth tried to find her mother. The photographer, a skinny 26-year-old, went back to the newsroom and developed one of the most famous pictures of the 20th century.
---