For Columbus Day: more nuanced views of Columbus
Two new books offer perceptive takes on Christopher Columbus and the long-range impact of his famous discovery.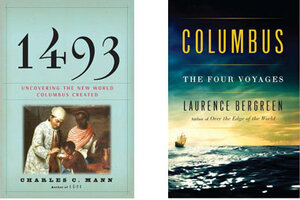 You might remember the saying from school. It goes something like this: "In fourteen hundred ninety-two, Columbus sailed the ocean blue. And then the racist imperialist brought death and devastation to the New World he didn't even discover in the first place."
Oh, wait. That's not it. In fact, maybe we shouldn't consider Columbus to be a menace. After all, he was a great explorer. And there's the matter of the minor American holiday that gives some fortunate people a day off to celebrate him by hitting a sale. (Thanks from me and these jeans at 40 percent off!)
If you do give a thought to Columbus while browsing through clearance-price footwear, consider this: Through skill, stubbornness and good fortune, this extraordinarily complex man became one of the few people in history to ever change the course of life on the entire planet.
And not just our lives but those of animals, germs and even plants, explaining why there's Italian pasta sauce, Belgian chocolate and Florida oranges.
Researchers believe that Columbus set off "nothing less than the forming of a new single world from the collision of… old worlds," writes Charles C. Mann in his new book 1493: Uncovering the New World Columbus Created, a followup to his bestseller "1491."
Another newcomer to the shelves, Columbus: The Four Voyages, looks at the explorer's life on the seas, mostly in the little-remembered forgotten aftermath of his mammoth 1492 discovery. Both books are perceptive and readable, although "1493" is livelier and convincingly reveals how the uniting of two worlds affects each one of us today.
---