Boomerang: Travels in the New Third World
Michael Lewis touches down in the nations damaged by the 2008 financial meltdown and proves – yet again – that he can turn anything into compelling prose.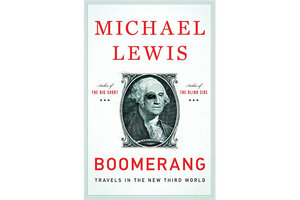 Let's say you're Michael Lewis. By the time you turn 50 you've written almost an entire shelf of incredibly successful books (including "Liar's Poker," "The Blind Side," "The New New Thing," "The Big Short," "Moneyball"), some of which have been turned into equally successful movies.
So engaging is your writing that poetry lovers devour your financial journalism and stockbrokers inhale your sports stories. Your 2010 book ("The Big Short") explained the 2008 Wall Street collapse to the average reader in vivid and lucid terms. What do you do for an encore?
Lewis's answer was to take advantage of a brand-new travel option: "financial disaster tourism." In other words, head to some of the places on the planet most badly singed by a horrific combination of avarice and the 2008 failure of Lehman Brothers, talk to some of the more colorful victims, and then write a book about it all.
That book is Boomerang, and you won't know whether to laugh or cry while reading it.
Lewis says that the idea for "Boomerang" came to him "accidentally," while talking to a hedge fund manager who believes that Europe could be on the verge of a series of "sovereign defaults" – the bankruptcies of entire nations. To check the situation out, Lewis hopped on a plane and began his personal tour.
What he ended up compiling is a saga of staggering selfishness, greed, and incompetence that somehow manages – because it is Lewis doing the telling – to be every bit as engaging as it is horrifying.
---