Grant's Final Victory
Charles Bracelen Flood offers a fascinating coda to a remarkable life in this brisk, well-told history of the final months and days of Ulysses S. Grant.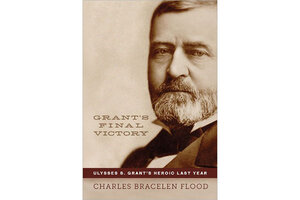 When he died at age 63 in July, 1885, Ulysses S. Grant ended one of the longest public vigils in American history.
The beloved former president and Civil War hero maintained his dignity despite a final year that included the loss of his entire net worth and a terminal case of throat cancer. Grant capped those arduous last months by willing himself to compose and edit his memoirs, pounding out nearly 300,000 words at the same time he was in agony from the cancer.
The subsequent publication of Grant's memoirs by his friend Mark Twain rescued the general's widow from financial ruin when it became a best-seller.
Charles Bracelen Flood recounts this fascinating coda to a remarkable life in Grant's Final Victory, a brisk, well-told history of the former president's final months and days.
Grant endured and defied unspeakable pain in his last year of life. Bracelen Flood quotes from a letter sent by Grant describing his attempts to drink water: "If you can imagine what molten lead would be going down your throat, that is what I feel when swallowing."
In the summer of 1884, just weeks removed from the collapse of a Wall Street firm he had affixed his name to, his wife, Julia, and other family members grew concerned over Grant's failing health. It wasn't until months later, when Grant's personal physician returned from a trip abroad, that he finally submitted to an exam and learned the grim prognosis.
So bad was the pain that Grant required steady doses of cocaine and water applied to his tongue and throat.
His condition was torturous, but not unexpected. During the Civil War, Grant discovered cigars and became a prodigious smoker. On the second day of the Battle of the Wilderness, he smoked 20 cigars. He maintained his smoking habits in the White House and beyond.
---