The Better Angels of Our Nature: Why Violence Has Declined
Harvard psychologist Steven Pinker argues that, as a society, we are on a "retreat from violence."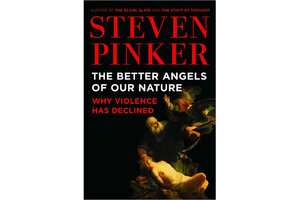 Steven Pinker may be America's most prominent science writer. That label seems too narrow for him though, as he is as well-known for his efforts on linguistics and moral philosophy as he is on his science work. In The Better Angels of Our Nature, he ventures further outside of his domain (he is a psychologist at Harvard), looking at the reasons for the gradual but undeniable decline in violence across the world in the last few centuries.
Along the way, he incorporates ideas from criminology, literature, and international relations theory as well as from his traditional areas of interest. "No aspect of life is untouched by the retreat from violence," he writes.
The result is a book that is exhilarating and exasperating, impressive and embarrassing. Pinker musters a lot of data to show that, contrary to impressions gleaned from the nightly news, violence both between states and within them have declined significantly. Little of this is new – Pinker relies a great deal on a 1989 book by political scientist John Mueller, for example – but it is helpful to have it all in one volume.
---