Nightwoods
Charles Frazier returns to the mountains of North Carolina – this time in the 1960s – to tell the story of a young woman charged with caring for her murdered sister's children.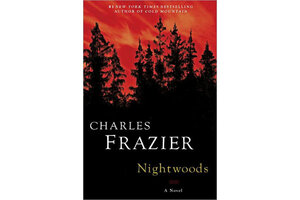 "I think there's that old culture of America that's gone," author Charles Frazier told an NPR interviewer during a conversation about his award-winning 1997 novel "Cold Mountain." "I suppose when I was a child in the Southern Appalachians, there was just a moment when you could see a little, little vestiges of that, and part of ["Cold Mountain"] is an elegy for that old America."
Frazier's wonderful new novel, Nightwoods, is no less elegiac than was "Cold Mountain." "Cold Mountain" is a Civil War novel, but "Nightwoods" – set in the rural North Carolina of Frazier's 1960s childhood – takes us to a world every bit as remote.
The novel's protagonist Luce is a wild beauty who seems firmly – even stubbornly – rooted in the North Carolina of the past. She lives alone in a forsaken lodge on a forgotten lake that was once a retreat for the rich of another century. "Now the millionaires and the railroad were gone," Frazier writes. "But the lake remained, a weird color-shifting horizontal plane set in an otherwise convoluted vertical landscape of blue and green mountains."
Luce has neither telephone nor car and hugs her solitude tight. Her nearest neighbor – and friend – is an older woman named Maddie who lives in the world "like it had remained 1898." Maddie's front yard is decorated with "hot red peppers and brown leather britches drying on lines of cotton twine drooping from the porch posts."
It seems a picturesque enough world, but Luce's life is hedged about by violence and loss. Her retreat to the lake was triggered by a rape. ("Luce's rapist was a young man, and married. Mr. Stewart. Luce knew him well," Frazier tells us in prose as lucid and still as the forgotten lake.)
Before that, Luce's childhood was upended by the abandonment of her mother, Lola (an unmaternal floozy whom Luce dimly recalls speckled with polka dots and freckles and reeking of booze) and the distant nature of her father, a diminutive, angry sharpshooter who serves as a local lawman despite a nasty amphetamine addiction.
---