In Other Worlds: SF and the Human Imagination
Margaret Atwood: Does she or doesn't she write science fiction?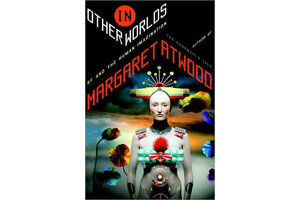 For an Arthur C. Clarke award-winner (in fact, the very first Arthur C. Clarke award winner), Margaret Atwood has always been leery of the science-fiction label.
Five-time Hugo winner, six-time Nebula winner, and all-around living legend Ursula K. Le Guin called Atwood out on her reluctance in 2009 in her Guardian review of "The Year of the Flood," the third of what Atwood prefers to be called her "speculative fiction" novels. "To my mind, 'The Handmaid's Tale,' 'Oryx and Crake' and now 'The Year of the Flood' all exemplify one of the things science fiction does, which is to extrapolate imaginatively from current trends and events to a near-future that's half prediction, half satire," Le Guin wrote. "But Margaret Atwood doesn't want any of her books to be called science fiction. In her recent, brilliant essay collection, 'Moving Targets,' she says that everything that happens in her novels is possible and may even have already happened, so they can't be science fiction.... She doesn't want the literary bigots to shove her into the literary ghetto."
The Booker Prize winner is hardly the first writer not to want to be crammed headfirst into a too-small box. "I have been a soreheaded occupant of a file drawer labeled 'science fiction' ... and I would like out, particularly since so many serious critics regularly mistake the drawer for a urinal," Kurt Vonnegut wrote in "Wampeters, Foma & Granfalloons." If Bram Stoker were alive, he would likely protest that "Dracula" shouldn't be shelved in the horror section, and Jane Austen would no doubt be adamant that "Pride & Prejudice" was a social satire, not a romance.
Still, Le Guin has a point: If it looks like a futuristic waterfowl, and it quacks like a futuristic waterfowl, does it matter whether it arrived as part of an alien invasion or as a result of genetic mutation?
---