American Emperor: Aaron Burr's Challenge to Jefferson's America
The story of Aaron Burr is a rattling tale that makes today's political partisanship pale in comparison.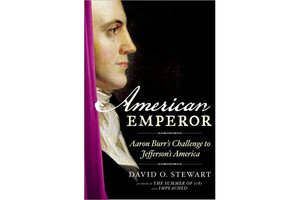 If you feel that our contemporary politics are off the rails, you should read David O. Stewart's vivid account of 19th-century American machinations: in 1805, the sitting vice president of the United States was under indictment for murder while simultaneously presiding over a politically motivated Senate impeachment trial of Supreme Court Justice Samuel Chase, of whom President Thomas Jefferson had grown weary. The cantankerous and overtly partisan judge (sound familiar?) was acquitted in a cakewalk.
Although Aaron Burr had killed one Founding Father – the Federalist Alexander Hamilton – in a duel in New Jersey, he was warmly welcomed back to Washington by his fellow Republican partisans, including another FF, the President.
Soon, and before leaving high office, Burr was offering his covert services to America's former colonial masters and eventually would hatch a polymorphous scheme to dismember the nation which he previously had served honorably in war and peace. His prime co-conspirator was the highest ranking military officer in the land, General James Wilkinson, who was a secret agent for Spain, had been for years. (He tipped the Spaniards off to Lewis and Clark's mission).
Feeling better about 2011?
---