Midnight Rising: John Brown and the Raid that Sparked the Civil War
Forgotten hero – or crazed fanatic? Journalist Tony Horwitz reexamines the story of John Brown and his raid on Harpers Ferry.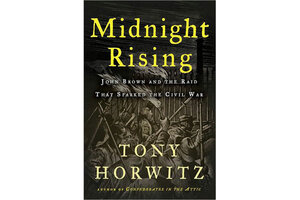 Despite the best efforts of some very good teachers, many things in American history remain murky to me. For instance: Who bribed whom to cause the Teapot Dome scandal? What did the Smoot-Hawley Tariff tax? And why did we fight the War of 1812?
Add to this list the story of John Brown's 1859 raid on Harpers Ferry. My favorite elementary school teacher called John Brown a hero, while my crisply edited high school textbook branded him a crazed vigilante. But exactly what he did and why I have never fully grasped.
That is, not until I picked up Tony Horwitz's absorbing new book Midnight Rising: John Brown and the Raid that Sparked the Civil War. Horwitz, a Pulitzer Prize-winning journalist and author with a gift for writing engagingly about many things, is perhaps best known for "Confederates in the Attic," his 1998 book about America's ongoing obsession with the Civil War.
This time, Horwitz – dismayed that history sometimes treats Brown and his dramatic raid on Harpers Ferry as a mere "speed bump" in the race toward the Civil War – turns the clock back to 1800, the year that Brown was born into an infant United States, a country that was still a "preindustrial society of five million people," of whom "almost 900,000 were enslaved."
Even as a small boy, Horwitz notes, Brown showed signs of "a truculent and nonconformist spirit." That spirit, apparently, was roused to deep agitation when Brown, at the age of 12, saw a slave boy beaten with iron shovels. He would later write that this event jolted him into awareness of "the wretched, hopeless condition, of Fatherless & Motherless slave children" and marked the beginning of his "Eternal war with slavery."
---
Follow Stories Like This
Get the Monitor stories you care about delivered to your inbox.