Jack Kennedy: Elusive Hero
Chris Matthews examines John F. Kennedy, one of the most enigmatic US presidents, in a book rich in insights.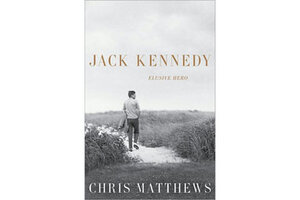 Public opinion polls repeatedly find that John F. Kennedy is one of the most admired presidents in American history. But in important respects he remains an enigma. Was he an inspirational hero who avoided nuclear war or a reckless gambler who took us to the brink of Armageddon? Was he pragmatic or idealistic? A hard worker or a dilettante? Did he deserve the success he achieved or was it largely a product of his father's fortune?
Political commentator Chris Matthews admits that in the 1960 presidential election (when he was 11 years old) he was a solid Nixon supporter despite the fact that he and the Massachusetts senator were both Roman Catholic Irish-Americans. Over time, however, his political loyalties shifted to the Democrats, and his interest in Kennedy and what made him tick increased. He writes: "A half century of political life later, my fascination with the elusive spirit of John F. Kennedy has remained an abiding one. He is both pathfinder and puzzle, a beacon and a conundrum."
For many years, Matthews collected and analyzed the recollections of people who knew and worked with Kennedy. And as longtime chief of staff to the late House Speaker Thomas P. "Tip" O'Neill (D) of Massachusetts, the successor to Kennedy's seat in the House, Matthews had ample opportunities. He was an avid, attentive listener who kept careful notes and records. His latest book, Jack Kennedy: Elusive Hero, is an effort to organize what he learned and, in doing so, to explain the hold that Kennedy has on America's national psyche.
---