Steve Jobs
Steve Jobs: the genius rebel who saw the world – computers included – differently from the rest of us.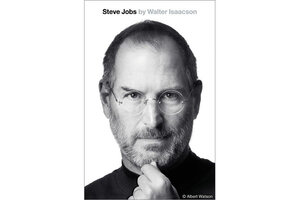 Steve Jobs once cheated his Apple co-founder out of bonus money and then, when it was disclosed a decade later, denied having done so.
As a CEO, he routinely ignored concerns over additional manufacturing expenses in order to deliver sleeker designs and wow his customers.
Jobs accumulated enormous wealth as he fought for millions of stock options but never hired security guards, often lacked basic furniture, and refused to live in a gated neighborhood.
He embraced the teachings of Zen Buddhism yet was never at peace, berating allies and employees with cruel remarks almost until his dying day.
These are just a few of the contradictions and idiosyncrasies included in Walter Isaacson's splendid biography, Steve Jobs, a nuanced, balanced portrait that is sure to become mandatory reading for anyone with an interest in big business and popular culture. Over the course of roughly 30 years, Jobs transformed the way people create and consume entertainment and information while conjuring a cult of personality as the turtleneck-wearing oracle from Apple.
Jobs died last month at the age of 56, triggering a reaction that might have been expected for a rock star. Fans set up impromptu memorials, held vigils and cried while clutching candles and, yes, iPhones.
---