1Q84
In "1Q84," award-winning Japanese novelist Haruki Murakami skips between alternate worlds, offering readers a moving love story in what is perhaps his most ambitious novel yet.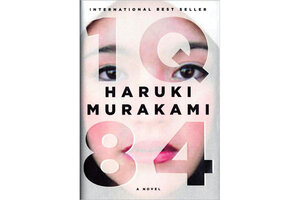 Set in a world just "a fraction of a centimeter off from our own," Haruki Murakami's latest novel, 1Q84, is populated with scenes of gruesome violence and reckless sexuality. At nearly 1,000 pages, it is also the 62-year-old Japanese writer's most ambitious novel yet – an unstoppably readable, deeply moving love story that cements Murakami's reputation as a uniquely compassionate and imaginative novelist who's among the leading voices of his global generation.
Murakami – who has said that he begins writing his novels with a single image in mind – opens "1Q84" in a traffic jam on an elevated expressway in Tokyo. It is the year 1984 and beautiful 30-year-old Aomame sits in a taxicab, anxious that she's going to miss an important appointment. The driver senses Aomame's unease and suggests she climb down from the expressway using an emergency stairway. It's an odd suggestion but Aomame is desperate. On her way out of the cab the driver warns her, "please remember: things are not what they seem."
And indeed they're not. Aomame makes it to her appointment, which turns out to be a "hit" on an oil executive who abuses his wife, but soon after completing the job she notices that the world seems askew. She hears people talking about news events she's never heard of, including a recent massacre at a religious compound, and when she looks up at night she sees two moons hanging in the sky – the familiar moon and, alongside it, a smaller moon, "slightly warped in shape, and green."
Aomame calls the world she's stepped into "1Q84" – in which the "Q" stands for "question" – and her strange surroundings throw into relief the central problem of her life: that with the exception of a single childhood experience, Aomame has always been lonely. That experience took place in 5th grade with a student named Tengo Kawana, who is the other main character in "1Q84."
---
Follow Stories Like This
Get the Monitor stories you care about delivered to your inbox.