Blue Nights
Didion's devastating new memoir explores loss in all its forms, to powerful effect.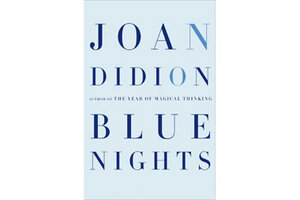 There are lots of memoirs about starting over after tragedy, about overcoming grief and forging a new life. This is not one of those memoirs. Blue Nights is about loss, in all its forms.
On Dec. 30, 2003, Joan Didion and her husband, the writer John Gregory Dunne, came home from visiting their daughter in the intensive care unit, where she was in a medically induced coma. That night at dinner, Dunne died suddenly from a heart attack. Less than two years later, their daughter, Quintana, died, just after her mother's most famous book was published.
Didion won the National Book Award for "The Year of Magical Thinking," her unsparing, lucid examination of her grief and tangled thought processes in the months after Dunne's death. If you've lost a loved one since 2005, the odds are good that someone has lovingly pressed a copy into your hands. Turning her investigative journalist's eye inward, Didion's ability to scrutinize her own consciousness to chronicle that raw time spoke directly to thousands of people reeling from loss.
That willingness to wield her honed talent on herself, as well as to look unflinchingly at a subject most Americans shy away from, are again on display in her elliptical, devastating new memoir, "Blue Nights."
The book's title comes from the French word for the gloaming. In a preface, Didion writes, "This book is called 'Blue Nights' because at the time I began it I found my mind turning increasingly to illness, to the end of promise, the dwindling of the days, the inevitability of the fading, the dying of the brightness. Blue nights are the opposite of the dying of the brightness, but they are also its warning."
---