Catherine the Great: Portrait of a Woman
Biographer Robert K. Massie gives us a Catherine the Great who is ever interesting and intelligent – but not necessarily admirable.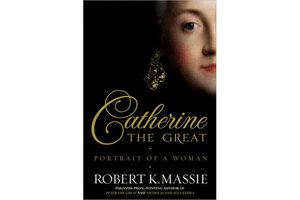 Robert K. Massie, whose "Peter the Great" won a Pulitzer Prize 30 years ago, is about as comfortable a biographer as I know.
He never seems flustered or tied down to academic details. He's got his sympathies in place and a story to tell. His simple and straightforward thesis? "[Catherine] and Peter the Great tower in ability and achievement over the other fourteen tsars and empresses of the 300-year Romanov dynasty." Elizabeth I of England, meanwhile, was "the only woman to equal [Catherine] on a European throne."
While Massie is smitten with Catherine (1729-1796), who "beneath her title and her diamonds ... was only a little German girl brought to Russia for the sole purpose of providing the son of the house with an heir," the reader, sympathetic or not with some of the grown-up empress's pragmatic inaction and actions, will always be fascinated. That she wrested the crown of all Russia from her husband, Peter III, and with the help of her lover placed it on her own head, and then tried to keep it from her son's head and place it on her grandson's, is forgivable – or at least, understandable – in the context of the Sopranos-style skullduggery and double-crosses and murders that characterize royal history.
Maybe all idealized politicians, from Peter the Great to Lincoln to Lenin to Obama, disappoint when we realize that they're playing the dirty game of politics. And then we humbly resign ourselves to witnessing the exciting and fateful contests.
---