And So It Goes
The first serious biography of counterculture hero Kurt Vonnegut reveals a man wounded by his childhood and full of contradictions as an adult.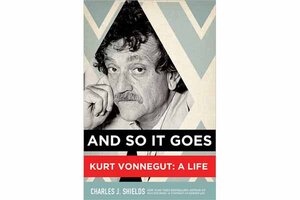 Reading And So It Goes, Charles J. Shield's stunning new biography of Kurt Vonnegut, has proven to be a very unsettling personal experience. At first I was thrilled to have the chance to read the first serious biography of a hero of my young adulthood and found the book to be compelling reading. But as I went on, I found myself alternating between feelings of sadness and anger.
It was a bit like finding a trunkload of diaries and letters in the attic of your recently deceased but most special of uncles. A quick perusal leaves no doubt as to their authorship. And, while one is necessarily curious, it becomes hard to ignore two nagging questions. "Do I dare read them? And if I do, am I really prepared for the revelations about to come my way?"
In hindsight, I realize that I was not.
The current work is Shield's second effort at the biography of a contemporary American writer. His first, the critically acclaimed, "Mockingbird" was about Harper Lee. It is worthy noting that that was a project undertaken without the benefit of any cooperation from either its subject or any of her close family and friends.
Such is not the case here.
The resulting product is an exhaustively documented (and sometimes exhaustingly detailed) presentation of the author's life in straight chronological form.
In retrospect, the warning signs were made very clear. In the introduction Shields describes an early interview with the elderly Vonnegut. Shields reports he was expecting the author to present some of the most positive features of his life, stories about his military career, his education and, most certainly, tales of his children.
But that was not to be.
---
Follow Stories Like This
Get the Monitor stories you care about delivered to your inbox.