White Truffles in Winter
An opulent novel based on the life of Auguste Escoffier, the 'king of chefs and chef of kings.'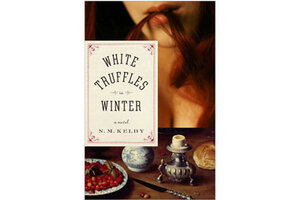 Reviewed by Heller McAlpin for The Barnes & Noble Review
If you don't mind salivating while you read, White Truffles in Winter, N. M. Kelby's opulent novel based on the life of Auguste Escoffier, the "king of chefs and chef of kings," is about as sumptuous a work of fiction as you're likely to find. The sensuous connection between cooking, eating, and romance has been explored in fiction before, but rarely has a novel – including those by that old foodie Honoré de Balzac, or Laura Esquivel's "Like Water for Chocolate" (1989) – packed more calories and cholesterol into every page. We're talking seriously extravagant comestibles here, far more than just body-fuel.
Like a cook who refuses to follow a recipe slavishly, Kelby improvises with the basic ingredients of Escoffier's life to create a delectable dish of her own. She's occasionally heavy-handed with her seasonings – adding too many over-sweetened sentences like "Only food can speak what the heart feels" – but this is generally counterbalanced by the tart freshness of her characters, chief among them her version of the chef himself. As Kelby comments in her end note, "Escoffier's cookbooks, memoir, letters and the articles about him created the voice of this character but we all know that I did not write about the real man. The elegant savage found in these pages is who we all are when we address the plate. The magician, the priest, the dreamer, the artist – it is our most hungry self."
---
Follow Stories Like This
Get the Monitor stories you care about delivered to your inbox.