China In Ten Words
How do you best define a country? Chinese author Yu Hua summarizes his homeland in 10 words.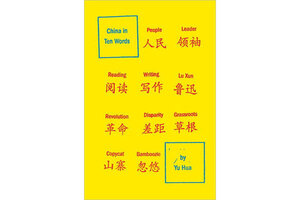 Yu Hua is a grand master of subversion. Just as his title – China In Ten Words – promises, Yu "compress[es] the endless chatter of China today into ten simple words ... to finally clear a path through the social complexities and staggering contrasts of contemporary China." Through laconic reduction, Yu exposes a China far beyond current Western assumptions based on adoptable baby girls, fears about Chinese überstudents out-performing America's own, and the looming US-to-China foreign debt.
Yu is well known for his internationally award-winning novels – including "To Live" (which became a lush Zhang Yimou film), "Chronicle of a Blood Merchant," and "Brothers" – but "China in Ten Words" is his first nonfiction work in English translation.
Here, he combines history, sociopolitical analysis, economic observations, with his own personal experiences to illustrate for readers the contrast between the deprivation that defined the Cultural Revolution of his youth and the extravagance of contemporary China.
Yu begins almost nostalgically with "the first words [he] mastered": "the people." During Mao's rule, "the people" projected power and gravitas, from Mao's directive to "'serve the people,'" to the People's Republic of China, to the country's most important newspaper, People's Daily. Three decades later, Yu muses, "I can't think of another expression in the modern Chinese language that is such an anomaly – ubiquitous yet somehow invisible." In a new China "where money is king," 'the people' have been "denuded of meaning by Chinese realities."
---
Follow Stories Like This
Get the Monitor stories you care about delivered to your inbox.