The Food52 Cookbook
Looking for a cookbook that delivers – in equal shares – rigor, wit, and great recipes? "The Food52 Cookbook" may become your new best friend.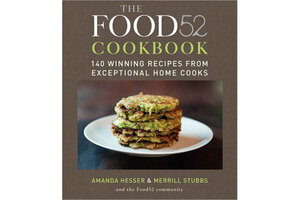 Why buy a cookbook when you can find so many recipes online? This question seems especially pertinent when considering The Food52 Cookbook, all of whose 140 recipes are available – along with more than 14,000 others and counting – on Amanda Hesser and Merrill Stubbs's crowd-sourced website, Food52.com, which holds weekly recipe competitions featuring a specific ingredient or theme.
The answer, in a word, is editing.
What "The Food52 Cookbook" offers are the winners of their first year's contests – rigorously tested, wittily annotated, temptingly photographed, and instructively commented upon. With no also-rans to scroll through, it's enticing without being overwhelming. Separated from the pack, recipes such as Your Best Brunch Eggs (a Savory Bread Pudding with mushrooms, proscuitto and shallots), Your Best New Year's Resolution Dish (One-Pot Kale and Quinoa Pilaf), and Your Best Peach Recipe (Simple Summer Peach Cake) can really shine. Even more irresistible are the bonus selection of Wild Card Winners, such as Zucchini Pancakes, Seriously Delicious Ribs, and the addictive, couldn't-be-easier Sweet and Spicy Horseradish Dressing.
As fans of her award-winning "Cooking for Mr. Latte," "The Cook and the Gardener," and last year's "The Essential New York Times Cookbook" know, Amanda Hesser has a beguiling knack for melding impeccable taste and technique with witty aperçus and personal anecdotes that make you want to not just sample her recipes, but her life.
---