Shiny Objects: Why We Spend Money We Don't Have in Search of Happiness We Can't Buy
Christmas shopping out of control? "Shiny Objects" may be your next best read.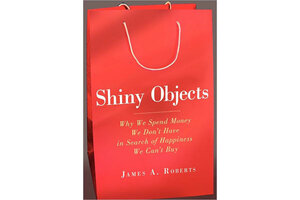 As hand-scrawled letters to Santa Claus make their way to the North Pole, menorahs find their way to the counter, and Christmas trees go up in the living room, thoughts across America are turning toward one topic: presents. The newest cell phone, the newest television, the newest fashions – we are making our lists of the things we want for the new year.
In James Roberts' timely volume, Shiny Objects: Why We Spend Money We Don't Have in Search of Happiness We Can't Buy, we are invited to check our lists twice – and then cross things off.
On one of the first pages of "Shiny Objects," Roberts asks: "Why, in a land of the plenty, do Americans want more? And why is more never enough?" This is the question that "Shiny Objects" aims to answer. Through research studies, statistics, and history lessons, Roberts describes how "as consumers, we're not who we think we are" – how what we say (that relationships and happiness are important to us) is often at odds with what we do (spend money or spend time working to make money), and how exactly Americans got to this point.
It all starts, Roberts tells us, with the American Dream.
"The traditional message of the American Dream was that through hard work, frugality, and sacrifice, anyone could achieve financial independence," he writes. "Somehow we lost our way on the road to that dream.… Dreams of easy money have replaced hard work, thrift, and self-sacrifice."
---
Follow Stories Like This
Get the Monitor stories you care about delivered to your inbox.