On Conan Doyle
Washington Post book critic Michael Dirda offers a love letter to Arthur Conan Doyle, the author he credits with changing his life.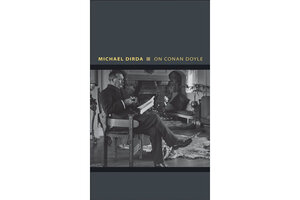 "No, Mr. Holmes. They were the footsteps of a gigantic hound." Is there anyone who doesn't still feel a shiver at those words? Michael Dirda felt it at the age of 10, when he first read Arthur Conan Doyle's "The Hound of the Baskervilles." Little did he know it, but the experience would send him on the way to his life's work. He pays homage to the author of those words with his new book, On Conan Doyle: Or, The Whole Art of Storytelling.
Dirda is the Pulitzer Prize winning book reviewer for The Washington Post and author of the essay collections "Readings," "Bound to Please," "Book by Book," and "The Classics for Pleasure," as well as the memoir "An Open Book."
Dirda says of "The Hound of the Baskervilles," "[It] was the first 'grown-up' book I ever read – and it changed my life."
"On Conan Doyle" is at once a biography, an appreciation of the Holmes stories, an insightful overview of the other works written by Doyle, and a billet-doux to the Baker Street Irregulars. It is also a memoir of a young man's reading experience.
Doyle was, by any measure, a remarkable man. He was trained as a doctor and specialized in ophthalmology. In fact, some of the methods of Holmes were based on the real-life analytical methods of one of Doyle's professors, Joseph Bell.
---