Almost President
Why some of the candidates who lost the race for president ultimately had a bigger impact than many of those who won.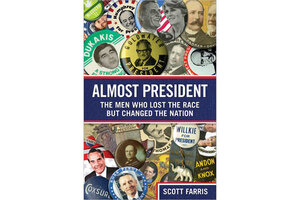 If you gave the average American five guesses as to who was the first person to lie in state in the Capitol Rotunda, odds are he or she wouldn't come up with Henry Clay. A titan of his time, Clay (1777-1852) was a longtime senator from Kentucky who also served as Speaker of the House and secretary of state. He was Abraham Lincoln's idol, "and a study of Lincoln's writings and speeches clearly shows that much of his political philosophy was directly inherited from Clay," says Scott Farris in Almost President: The Men Who Lost the Race but Changed the Nation.
Clay, who was known as "The Great Compromiser" for helping to enact three legislative compromises that temporarily averted civil war, lost his three campaigns to become president and "is the greatest example of how failing to become president obscures a candidate's place in history," says Ferris, a former bureau chief for United Press International. His book contains a dozen engrossing biographical sketches of men who ran for the presidency and lost – "but who, even in defeat, have had a greater impact on American history than many of those who have served as president."
---
Follow Stories Like This
Get the Monitor stories you care about delivered to your inbox.