Pauline Kael: A Life in the Dark
Pauline Kael became the voice for a new generation of film-goers.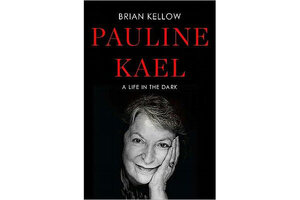 Pauline Kael is reported to have said to Robert Altman, after the screening of his film Three Women, "I loved the first part of the movie, Bob, but I hated the second part." My response was similar to Pauline Kael: A Life in the Dark, Brian Kellow's biography of the celebrated film critic.
Part of this can't be helped. It's always more interesting to read the fortunes of a rising star, battling her way to the top, making friends and enemies along the way, surviving on a shoestring.
Kellow offers a detailed account of Kael's childhood at a chicken farm in the Jewish community of Petaluma, Calif., her stint at Berkley (she dropped out as a senior), and her hard-won career as a film critic – culminating in her hire as the reviewer for The New Yorker at the age of 48. [Correction: This review originally misstated Kael's age.] Kael's struggles and rise to fame make for a compelling read, as does the backdrop against which it is set: the evolution of the movies out of the Hollywood Production Code and Studio System (established in the 1930s and crumbling by the 1960s) as well as the broader social history, culminating in the rise of the counterculture and the anti-war movement.
Kael, though not young herself, became a voice for the generation that reveled in films like Bonnie and Clyde and M*A*S*H, movies that an older generation of critics dismissed. Likewise, her very style of writing pushed film criticism to reflect a new voice, one that dropped the pretense of objectivity in keeping with New Journalists like Joan Didion and Norman Mailer, and leaned on the vernacular and the occasional sexual metaphor. (Battles between Kael and genteel New Yorker editor William Shawn over her salty language were regular occurrences.)
---