A Slave in the White House
Historian Elizabeth Dowling Taylor tells the unsettling story of a Founding Father and his slave.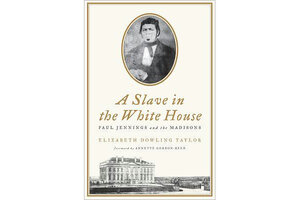 He was a founder of this country, an Enlightenment thinker, and a public savant anointed as "Father of the Constitution" and "Father of the Bill of Rights."
Yet James Madison, fourth president of the United States, owned scores of slaves. He was "an exceptional statesman, a political philosopher without peer, but a garden-variety slaveholder," writes Elizabeth Dowling Taylor in A Slave in the White House.
Of course it wasn't just Madison. The same could be said of George Washington and Thomas Jefferson, among others.
But if Madison was a "garden-variety" master, at least one of his slaves was what you might call a game-changer. Paul Jennings, property of Madison from birth and the valet who served him in the White House, eventually bought his own freedom (with the help of passionately anti-slavery statesman Daniel Webster), took a job as a civil servant, bought a house, and enjoyed life in Washington, D.C. as a free man.
---