The Last Great Game
How the 1992 Duke and Kentucky teams took a trip into college basketball immortality.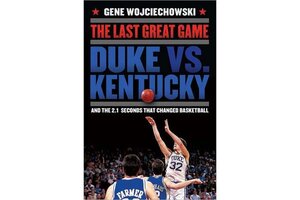 An unforgettable moment in college basketball stands poised for a new wave of nostalgia when March Madness returns in a couple of months.
In the weeks ahead, even the most casual fan will find it all but impossible to avoid highlight clips showing Grant Hill throwing a 75-foot inbounds strike to Christian Laettner, who caught the ball, dribbled once, and sank the winning shot, all in 2.1 seconds.
The 104-103 overtime victory sent Duke to the Final Four and an eventual second straight national championship, but few people remember any of those subsequent games. Instead, Laettner's last-second jump shot against Kentucky looms above anything else that occurred in the 1992 NCAA tournament, or almost any other moment in the rich lore of brackets and buzzer-beaters.
Many have billed it the greatest college basketball game in history. Twenty years later, it comes under closer inspection in The Last Great Game, veteran sportswriter Gene Wojciechowski's account of the players, coaches, and even referees on the court that day at The Spectrum in Philadelphia. Wojciechowski offers a nice blend of past and present perspectives as he tells the story of how an unlikely classic came to be, how it played out, and how it lives on. Like many other sports books, this one bears a subtitle that lacks merit ("Duke vs. Kentucky and the 2.1 Seconds that Changed Basketball"), since there is little evidence that basketball itself was changed by the game. It is more than enough that the game was marvelous, memorable, and changed – or at least enhanced – the lives of so many of the participants.
But those are minor complaints in a book that is both fun and thorough without getting tedious.
Sportswriters and fans, not to mention ESPN and the other networks that show the endless series of major pro and college sporting events, seem prone to overhyping every player and every game in the current era of infinite highlight loops, constant analysis, and screen-bottom scrolls. So much so that even a game from 1992 – the regional final between defending national champion Duke and heavy underdog Kentucky – feels quaint by comparison.
---