Behind the Beautiful Forevers: Life, Death, and Hope in a Mumbai Undercity
Katherine Boo's story of residents in a Mumbai slum is meticulously researched and told with unblinking honesty.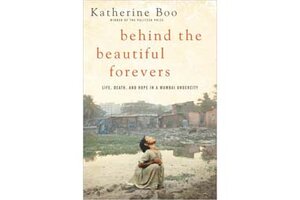 Remember the title of Katherine Boo's new book Behind the Beautiful Forevers: Life, Death, and Hope in a Mumbai Undercity, because you will see it on upcoming nominee lists for the next round of Very Important Literary Prizes. That Boo won the Pulitzer in 2000, a MacArthur "Genius" Fellowship in 2002, became a staff writer for The New Yorker in 2003 (contributor since 2001) after 10 years with The Washington Post, and is just now publishing her debut title, will guarantee media coverage. That "Beautiful" is an unforgettable true story, meticulously researched with unblinking honesty, will make Boo's next awards well-deserved.
From November 2007 to March 2011, Boo became a regular fixture in Annawadi, "the sumpy plug of slum" next to the constantly modernizing international Mumbai airport, and home to 3,000 inhabitants "packed into, or on top of 355 huts." Settled in 1991 by Tamil Nadu laborers from southern India hired to repair an airport runway, 21st-century Annawadi sits "where New India collided with old India and made new India late." Encircling Annawadi are "five extravagant hotels," luxurious evidence of India's growing global presence: "'Everything around us is roses,'" describes an Annawadian, "'And we're the sh*t in between.'" In this fetid microcosm, everyday dramas range from petty jealousies to explosive violence fueled by religion, caste, and gender.
---