The Flame Alphabet
Marcus's novel has a meandering beginning but is a masterful examination of love and endurance.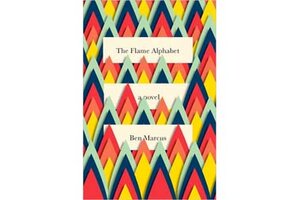 Reviewed by Jeff VanderMeer for The Barnes & Noble Review
In Ben Marcus's chilly yet passionate new novel, The Flame Alphabet, the world ends not with a bang or a whimper but because of lingering collateral damage from daily speech -- communication as a killer. Marcus, author of Notable American Women and The Age of Wire and String, imagines a sudden universal plague, originating with Jewish children, in which the words of the young render adults sick and then dead. The ghastly symptoms include retching, speech fever, yellow skin, and bruising around the mouth. Victims eventually turn into "leaking sacks of mush."
A man named Sam relates the particulars of the affliction, stage by stage. He also chronicles the erosion of his relationship with his wife, Claire, and their twinned resentment and love of their teen daughter, Esther -- a defiant, sentimental hell-beast typical of the species -- whose words would be knives even without the arrival of a seemingly inexplicable epidemic. As Sam struggles to preserve his loved ones, the narrative continually turns in on itself to share in ever more poignant detail the paralysis of the family unit. The wider crisis is described just well enough to imbue the novel with the necessary semblance of reality, but no more than that.
The particulars of Sam's faith stand out in sharp relief against this backdrop of crisis, and the two seem linked by a second fabulist element in the book -- a network of secret huts through which Jewish couples receive "religious transmissions." The complex process by which Sam and Claire assemble the necessary equipment, attaching uncomfortably fleshy "listeners" to the orifice in the hut floor, would make William Burroughs smile in recognition.
---