Sweetness: The Enigmatic Life of Walter Payton
A thoroughly researched, frank, and deeply engaging biography by Jeff Pearlman sheds new light on the player who was the heart and soul of the Chicago Bears.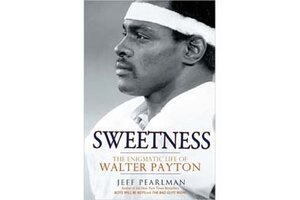 One of the most telling anecdotes in Super Bowl history involves Walter Payton, who was the heart and soul of the Chicago Bears for many years.
After 10 mostly futile seasons toiling for the franchise, the punishing running back finally could call himself a champion after Super Bowl XX in 1986.
The Bears had just shellacked the New England Patriots, 46-10, in the Super Bowl's most lopsided victory to that point. But in the joyous aftermath in the New Orleans Superdome, Payton went missing. Instead of celebrating with his teammates in the Chicago locker room, he had retreated to a broom closet for a good cry – not of joy, but of disappointment.
Payton was heartbroken. On the sport's biggest stage he not only hadn't scored a touchdown, but when Chicago had a short-and-goal opportunity late in the third quarter, a hulking rookie defensive lineman, William "The Refrigerator" Perry, was sent into the game to carry the ball the last yard into the end zone. It was a whimsical, gimmicky moment that would forever prevent Payton's name from appearing in the game's scoring summary.
It took his angry agent to read him the riot act and force him to return to the locker room and put on a good face. Anything less, he warned, would ruin Payton's good-guy image and paint him as a selfish moper.
---