Da Vinci's Ghost
Da Vinci's Vitruvian Man has been called the world's most famous drawing. But what does it mean?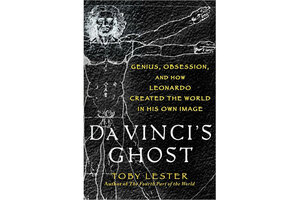 Turn over an Italian one-euro coin and you'll see it. Turn on "The Simpsons" and you might see it, too – albeit as a spoof. Watch the "The Da Vinci Code" and you'll definitely see it – in the form of a dead man splayed out on the floor of the Louvre.
"It" is Vitruvian Man, a world-famous drawing by Leonardo da Vinci that depicts a naked, well-proportioned man in two overlaid sketches inside a circle and a square – one bears an uncanny resemblance to Christ on the cross, while the other looks like someone trying to block a doorway. Taken together, Vitruvian man resembles a naked man doing jumping jacks.
But what does the picture actually mean? And where did Leonardo get the idea for the drawing? These and other intriguing questions are raised and answered by Toby Lester in Da Vinci's Ghost: The Untold Story of the World's Most Famous Drawing, a taut, engrossing tale that spans nearly 2,000 years and has its origins in the ancient Rome of Caesar Augustus.
Nowadays Vitruvian Man is everywhere, "deployed variously to celebrate all sorts of ideas: the grandeur of art, the nature of well-being, the power of geometry and mathematics, the ideals of the Renaissance, the beauty of the human body, the creative potential of the human mind, the universality of the human spirit, and more."
But the meanings associated with the drawing have accumulated gradually. Da Vinci's sketch (circa 1490) was not famous in his time, not even as several of his other works (The Mona Lisa, The Last Supper, The Virgin of the Rocks) became well-known and reproduced. In fact it wasn't until 1956 that Vitruvian Man garnered widespread public attention, when British art historian Kenneth Clark reproduced the drawing in a best-selling work called "The Nude: A Study in Ideal Forms."
---