The Lady in Gold
Every stolen painting has a story. The tale behind this one is epic.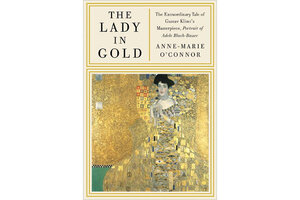 Family strife, Europe in convulsion, the art business, and what might have been an affair between a painter and his model are among the cross currents of Anne-Marie O'Connor's probe of "Portrait of Adele Bloch-Bauer I," Gustav Klimt's painting of a Viennese socialite in the first decade of the 20th century. Based on conversations with participants in the twisty saga, primarily Maria Altmann, the elderly woman who wrested the iconic Klimt portrait from the Austrian government, The Lady in Gold is dense – at times too dense – cultural history.
Subtitled "The Extraordinary Tale of Gustav Klimt's Masterpiece, Portrait of Adele Bloch-Bauer," this excavation covers the relationships between Klimt, a volcanic talent of voracious sexual appetite; Mrs. Bloch-Bauer; her families, both nuclear and extended; and the governments of Germany, Austria, and the United States. The painting, on exhibit at Ronald Lauder's Neue Galerie in Manhattan, looks luminous; apparently, Klimt was influenced by Byzantine mosaics he had seen in Ravenna, lending the work unusual incandescence by framing the pale Adele in a sea of gold. The eye and almond shapes surrounding her deepen the ambiguity of their bond, which O'Connor never quite clarifies.
---