Charlotte au Chocolat
Her parents' restaurant was celebrated, but Charlotte Silver's childhood as a rich little poor girl was less glamorous than it looked.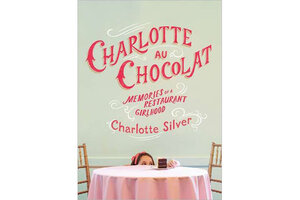 Charlotte Silver's favorite foods as a little girl included smoked pheasant with Roquefort flan, squab with black lentils and bacon, and candied violets served on a lace doily. Clad in a fancy party dress, she would order these delicacies, along with Shirley Temples adorned with five maraschino cherries and a fanfare of citrus twists, while seated at her regular corner table at her parents' Harvard Square restaurant, Upstairs at the Pudding. Sometimes she would top it all off with the fancy French dessert for which she was named – charlotte au chocolat.
Is it any wonder that her memoir of the same name is rosy-tinged with nostalgia, channeling some of the tickled pink childlike sensibility – minus the mischief – of Kay Thompson's "Eloise at the Plaza"? Unlike Patricia Volk's "Stuffed" – one of my favorite culinary-themed memoirs, generously packed with relatives and recipes – Charlotte au Chocolat is a sweet but limited book about the author's solitary, seemingly glamorous childhood as a rich little poor girl. Her dominant memory of her youth is waiting – either to get back to the restaurant that was the center of her life, or for her mother to finish work and take her home (and presumably give her some attention).
---