Going Solo
Eric Klinenberg's thought-provoking new book charts the singletons who are too often misunderstood by policymakers and our culture.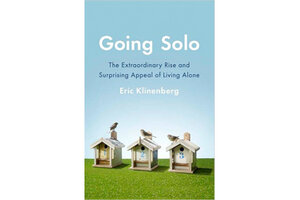 In 1935 General Electric sponsored a competition to design a dream house for the ideal American family. The parents in this ideal family were known as "Mr. and Mrs. Bliss." He was an engineer. She was a housewife. They had two kids – a boy and a girl. The contest asked Americans to submit ideas for all the ways that electricity could be used to improve their daily lives.
If the Bliss family was ever representative of America, it's certainly not anymore. Marriage rates are down. Divorce rates are up. Americans are having children later than ever before. These trends have reshaped nearly every part of American life. One of the most consequential – and least noticed – changes of all is the subject of New York University sociologist Eric Klinenberg's thought-provoking new book Going Solo: The Extraordinary Rise and Surprising Appeal of Living Alone.
Today, 28 percent of all American households are single people living alone – or "singletons" as the author dubs them. That is more than triple the rate of fifty years ago. Mr. Klinenberg writes, "People who live alone … are now tied with childless couples as the most prominent residential type – more common than the nuclear family, the multigenerational home, and the roommate or group home."
Despite their ubiquity, Mr. Klinenberg argues that singletons comprise a kind of shadow population that's misunderstood by policymakers and our culture writ large. "Going Solo" is an attempt to fill in the blanks – to explain the causes and consequences of living alone, and to describe what it looks in everyday life.
The first thing that should be said about living alone is that it doesn't look like any one thing. The singleton lifestyle varies considerably with age, as Klinenberg discovered while interviewing more than 300 singletons whom he divides roughly into three categories: Young urban professionals; middle-aged people who divorced or never married; and older people, generally women and often widows, living in their own homes or in nursing or assisted living facilities.
---