Life Sentences: Literary Judgments and Accounts
In 'Life Sentences,' author and critic William H. Gass entrances the reader with his lilting prose and skilled literary criticism.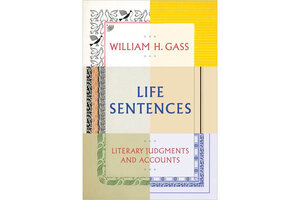 William H. Gass's Life Sentences: Literary Judgments and Accounts is a remarkable work of criticism on several levels. Gass, who is the author of both fiction and literary criticism, is the master of his subject matter, and in the course of the book's 350 pages, he engages the reader both through his delight in the poetry and prose of his favorite writers and his scorn for the propagandizing and sophistry of those who have earned his enmity. But where Gass's work really sparkles is in his ability to distill to its essence both the writing process and its devices – to understand how ideas are conveyed most elementally and powerfully.
The book opens with Gass receiving the 2007 Truman Capote Award for Literary Criticism. In his address, he emphasizes how, in great writing, the subtleties of sentence structure can perform "miracles": "To adorn nature with a new thing: that is the miracle that matters. Most prose flows into an ocean of undifferentiated words. To objectify through language a created consciousness, provide it with the treasured particularity we hope for for each human being – that is the cherished aim of the art." Gass asserts that a few inspired lines can "turn a sonnet into a masterpiece," but that the critic must also be keenly aware of those writings that "merely mimic greatness through grandeur's empty gestures." In other words, critics of writing, as with other art forms, must retain a safe distance from imitators' grandiose pretenses.
---