Cow
Florian Werner's book is a bright biography of the animal that's given us so much.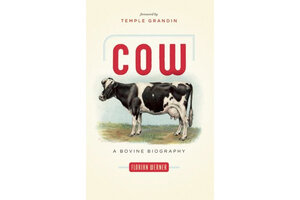 Reviewed by Peter Lewis for The Barnes & Noble Review
Forget the wheel. When it comes to the creation of advanced civilizations, think cow. We have clutched them to our collective bosom, and they have given us their udders and more: in goods, in services to agriculture, in symbolism and methane; nose to tail, the cow is a serious delivery system, and we take advantage of everything "except her moo." Florian Werner's Cow, originally published in German, is a bright and festive biography of the beast we've made so integral to human life. His book is sophisticated and earthy, with a taste for mythology. In the always burgeoning world of single-topic natural histories, it is the difference between meat-and-potatoes and steak frites: one drives a sports car and wears sunglasses. And behind the sunglasses, this cow is laughing.

It is true that some cows, our good friends the Holsteins, produce up to 5,000 gallons of milk a year, and Werner happily provides such facts, but what gets under his skin is the difficulty in overlooking the erotic suggestiveness of milk and milking. And those eyes: while it is interesting enough that they lack the macula, which makes the cow's world relatively blurred, isn't it yet more fascinating that the goddess Hera was nicknamed "Boopis," or "the cow-eyed one," for her beautiful eyes? And there had to be something in Brown Eyes' peepers for Friendless the cowboy to choose the cow over the farmer's daughter in Buster Keaton's 1925 film Go West.
---