The Great Inversion and the Future of the American City
From Brooklyn to Philly to Houston: Is the American city of today becoming more like Paris?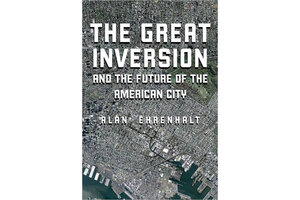 It used to be that as Americans moved up the ladder, they moved farther away from the city. Not anymore. According to political scientist, Alan Ehrenhalt, author of The Great Inversion and the Future of the American City, they're flocking back in droves these days. For example, at the time of 9/11 there were 15,000 people living south of the World Trade Center. By 2007 there were 50,000. "The strollers have reached Wall Street…. Take a walk down there some Saturday and you will see for yourself." In other words, our manifest destiny is no longer toward wider open spaces and bigger homes; it's more like a refrain from the famous Petula Clark song: "Downtown, things'll be great when you're Downtown...."
Inspired by his hero, the grass-roots activist and urban planner, Jane Jacobs, Ehrenhalt, walked around many of America's big cities over the past 10 years – Chicago, New York, Atlanta, Philadelphia, Cleveland, Houston, Phoenix – trying to understand how they were changing. What he discovered was a "radical rearrangement in which people who possessed money and choice were increasingly living in the center, while newcomers and the poor were settling in the suburbs, often in the outer reaches of suburban territory. In short, many American metropolitan areas were coming to look more like the European cities of a century ago...." This cultural phenomenon, unobserved and underreported, convinced Ehrenhalt that American society was, in fact, demographically inverting right under our noses, hence the term "demographic inversion" (as opposed to "gentrification").
---