Honor in the Dust
The historical lessons of Gregg Jones's exhaustively researched book about the US's campaign in the Philippines deserve to be remembered.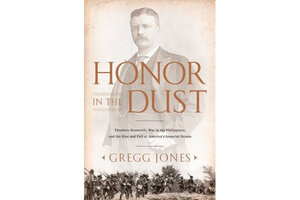 George Santayana, the eminent Harvard philosophy professor, novelist, and poet is widely known for his prescient observation: "Those who do not remember the past are condemned to repeat it." However, his lesser-known, but similarly poignant quote, "Only the dead have seen the end of war" is just as applicable in Gregg Jones' extraordinary new history of America's campaign for conquest of the Philippines, Honor in the Dust.

Jones's extensive research details the efforts of United States Presidents William McKinley and Theodore Roosevelt to subdue the Filipinos following America's defeat of their previous occupier, Spain, in the Spanish-American War of 1898. His account dovetails perfectly with two other recent books about contemporaneous events: Julia Flynn Siler's "Lost Kingdom" – about American colonialism in Hawaii – and Evan Thomas's "The War Lovers," about US adventurism in Cuba. One of Jones's main theses is one pre-eminent world powers struggle with to this day: that the line dividing liberation and conquest of less powerful nations often becomes blurry and can move with the ease of sharpened skates on fresh ice.
---