The Wind Through the Keyhole
The Wind Through the Keyhole" – a "Dark Tower"-related novel set in the fictional Mid-World – is unlikely to be ranked among Stephen King's top works, but it's still plenty entertaining.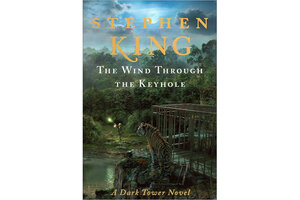 First, the background. In between "Christine" and "Misery" and countless other best-sellers, Stephen King wrote seven increasingly lengthy novels known as "The Dark Tower" epic, ending with the final volume published in 2004.
But, for King's legions of Constant Readers, it should come as no surprise that the frighteningly prolific author of "Dark Tower" has found inspiration for The Wind Through the Keyhole, yet another tale set in the fictional Mid-World. King's website describes this novel – set in harsh, post-apocalyptic terrain and focused on the peoples living there – as a combination of Tolkien's "Lord of the Rings" trilogy and Sergio Leone's shoot-em-up spaghetti Westerns.
"The Dark Tower" novels often intersect with stand-alone King works, but for those who find such fanboy jaunts of metafiction tedious, fear not. A brief scene-setting foreword serves as primer and, with that, King sends his troubled hero Roland Deschain back into action. Or, rather, inaction, as Roland and his motley crew, known as a ka-tet, find themselves battening down the hatches during a monstrous storm. (For those steeped in "Dark Tower" lore, "The Wind Through the Keyhole" fits between the fourth and fifth books.)
Whether these characters and their world are familiar or foreign, the new novel is, more than anything, an accessible and entertaining love letter to storytelling.
Roland, often brooding and cryptic in other "Dark Tower" tales, turns raconteur in this one. Three companions, drawn from the overlapping, contemporary world, accompany Roland. Despite or because of their shared adventures, they want to know more about Roland's past. King describes Roland and his fellow gunslingers as "a strange combination of knights errant and territorial marshals in the Old West."
---