Truth Like the Sun
Writer Jim Lynch skillfully crafts parallel stories to create a relentless novel.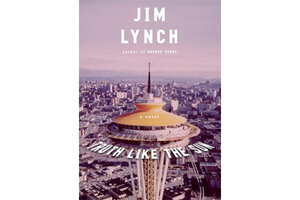 Reviewed by Anna Lundow for The Barnes & Noble Review
In Jim Lynch's propulsive new novel, Truth Like the Sun, the crimes are in the past, but the mystery surrounding them seeps through to the present, where glory-day memories conceal grubby secrets. "There was a time," the main character recalls, "when all of us together in a room could constitute a revolution…. Hell, in the day, six of us could meet for a drink and change the course of history." This is Roger Morgan, now 70, who became a Seattle legend by masterminding the city's World's Fair in 1962, a giddy year when Seattle's priapic optimism found perfect expression in the construction of the fanciful Space Needle.
Almost 40 years later, addressing a group of geriatric admirers, Morgan announces that he is running for mayor. Suddenly a routine assignment for reporter Helen Gulanos – to write an anniversary feature on the fair – turns into a news story. Morgan is running and Gulanos, an instinctive muckraker, begins to sift through the details of his legendary past. "She's the perfect age," Morgan's longtime aide tells him. "Old enough to know how to make you look like hell, young enough to think she's justified."
In chapters that alternate between 1962 and 2001, Lynch ratchets up the tension as Helen digs for dirt and we enter the riptide of 1960s boomtown Seattle.
---