Love, Fiercely
'Love, Fiercely' is evocative and often captivating, but Zimmerman is forced too often to speculate about her historical subjects.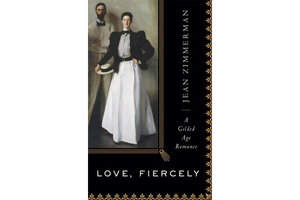 Reviewed by Barbara Spindel for The Barnes & Noble Review
Jean Zimmerman bills Love, Fiercely: A Gilded Age Romance as "the greatest love story never told." Its subject is the marriage of Edith Minturn and Isaac Newton Phelps Stokes, wealthy, passionate, and progressive New Yorkers immortalized in a celebrated portrait by John Singer Sargent in 1897. The massive painting now hangs in New York's Metropolitan Museum of Art, and the depiction of Edith so intrigued Zimmerman when she first encountered it that she ended up unearthing all she could about the couple.

Edith and Newton, both born in 1867 in New York, lived "parallel lives." Children of privilege for whom "honeymoon" meant several years gallivanting through Europe and "cottage" meant a 100-room mansion in the country, their shared interests ranged from social justice to art. They married at twenty-eight, much later than was conventional at the time; their relationship was also unusually modern in being both "a romantic union and a partnership of equals."
---