Bruce Springsteen and the Promise of Rock 'n' Roll
This intelligent examination of the career of Bruce Springsteen traces the rock icon's ability to balance two disparate identities.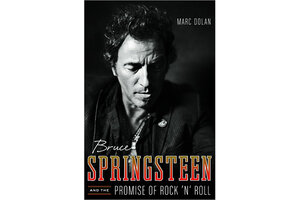 A long, long time ago, Bruce Springsteen''s iconic rock 'n' roll career was an open question. Looking back, through lenses provided by Bruce Springsteen and the Promise of Rock 'n' Roll, the early 70's seems stranger still. Springsteen's career leading up to his moderately selling first album in 1973 was hindered by a conflict between his publicists. One camp wanted to unveil Springsteen as the solo guitar playing philosopher-balladeer – "the new Bob Dylan" – while the other hoped to model Springsteen into a hard rocker backed up by a power chord band. Marc Dolan's interpretive biography tells the story of how pop music changed, and America culture changed to make way for both visions of Bruce Springsteen.
Pop music is about both music and image, singing and symbolism. Springsteen, born and raised in working class Freehold, N.J., was initially a misfit in the wake of the '60's cultural revolution. The legendary music executive John Hammond believed a sensitive, white recording artist should make music which appealed to a coffee house and folk music crowd. Springsteen, argues Dolan, was less a folkie than a working-class product of '50's and early '60's radio culture. He was a throwback to the days when Elvis was featured on the same stations as Little Richard – a time before the industry became strategically targeted and rock music became much whiter.
No wonder Springsteen's subsequent two albums exuded multi-cultural influences. His energetic concerts were accompanied by stage shows which harked back to soul style show bands of the 60's.
---