Jasmine and Fire
What do you do when war-torn Beirut – thousands of miles from where you work and live – is the city that feels most like home?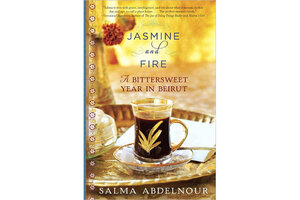 Home. The sense of belonging to a certain locality, surrounded by familiar people and places, regardless of whether one still lives in that location or not. This is the feeling food writer Salma Abdelnour had whenever she thought of her family's apartment in Beirut. Although just a child when her parents fled the Lebanese civil war for the safety of Houston, Tex., Beirut lingered in Abdelnour's mind as a place of contentment.
She remembered with fondness being surrounded by family and friends and days filled with simple pleasures like "a day at the beach during a cease-fire." In Houston, she didn't quite fit in and never felt fully accepted or integrated into the culture. She writes "I had a hunch that at 'home,' I wouldn't always need to explain myself, my name, my culture, my past…"
These feelings continued into adulthood, remaining with Abdelnour in her new home of New York City. Despite living for over 30 years in the United States, Beirut still lingered in the author's mind as the place where she really belonged.
In order to test this nagging suspicion that Beirut might be the place that she was really meant to live, Abdelnour turned her back on New York – which meant giving up a very full social life, her career, and a renewed romance with a man named Richard – to return to Beirut to live for a year. Jasmine and Fire is her book about that year.
---