Ashes to Dust
While the events of 'Ashes' sound outlandish, Sigurdardóttir's brisk writing style wins over the reader.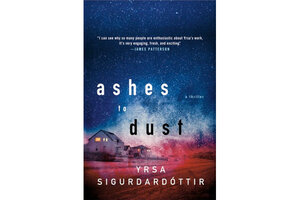 Reviewed by Anna Mundow for The Barnes & Noble Review
Scandinavian crime writers -- particularly the older generation -- seem to make a virtue of dullness. Think of Martin Beck in the novels of Per Wahlöö and Maj Sjöwall, wearily tracking down laconic witnesses and piecing together flimsy scraps of evidence. Or Kurt Wallender in Henning Mankell's crime series, doggedly unraveling knots of deceit and venality as his self-doubt grows and his health declines.
The Icelandic writer Yrsa Sigurdardóttir is clearly influenced by this tradition, although the prologue to her latest novel, Ashes to Dust, is hardly mundane. A woman lies bound and helpless. Something appalling is being done to her with pills, a syringe, a finger manipulating her tongue. When it is over, "the woman's visitor gently closed the bedroom door, showing far more courtesy than he had previously displayed," Sigurdardóttir writes, flashing the sly, mordant wit that spikes her engrossing, carefully plotted mysteries.
Ashes to Dust is rooted in the volcanic soil of Iceland's Westmann Islands, where an eruption in 1973 buried houses and caused a temporary evacuation. Thirty-four years later, Markus Magnusson rummages in the basement of one of the abandoned dwellings. Upstairs his lawyer, Thora Gudmundsdóttir from Reykjavík, waits alongside an archaeologist who is ready to excavate the site. When Magnus calls Thora down, she is confronted with three corpses, partly buried, and one head in a box. Magnus protests his ignorance and innocence, explaining that in 1973 a teenage friend, Alda, asked him to hide the sealed box and now, decades later, to retrieve it. The bodies, he insists, he has never seen before. Soon after the grisly discovery, however, Alda is found dead in her Reykjavík home. Magnus becomes a suspect in a new as well as an old crime, and Thora must penetrate an island community that cannily guards its secrets.
---