The Lost Bank
Wall Street Journal reporter Kirsten Grind tells the arrogant, shocking, utterly mad story of the biggest bank failure in US history.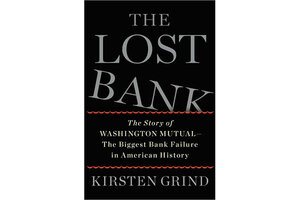 On Sept. 25, 2008, the government took control of Washington Mutual, a bank which had been started in Seattle exactly 119 years earlier. The bank had lost $16.7 billion in the weeks before its closure and regulators brokered a sale of the savings and loan to JPMorgan Chase for $1.9 billion. It was the biggest bank failure in American history.
What happened? Kirsten Grind tells us in her illuminating book, The Lost Bank, which gives a detailed account of the bank's trajectory from being a company known for "borrower-friendly loans" with a concentration on "human value" to becoming a symbol of the subprime mortgage madness. A Wall Street Journal reporter who wrote an investigative series on Washington Mutual for her former employer, the Puget Sound Business Journal, Grind provides a descriptively rich account of the bank's final two decades.
When Kerry Killinger became Washington Mutual's chief executive in 1990, he kept to a tight operating budget, insisting on flying commercial and telling employees "frugal is sexy." He then went on an acquisitions spree, buying eight small banks within two years then taking over Great Western and Ahmanson, doubling the bank's size twice over. After Killinger had turned Washington Mutual into the country's largest savings and loan, he set his sights on becoming the biggest mortgage lender. This goal was drilled into the company's thousands of loan writers, whose compensation was tied to the volume of loans they made.
---