Vita Nova
Writer Andrew Frisardi renders Dante's text into clear, nimble English, creating a book that works for newcomers as well as Dante scholars.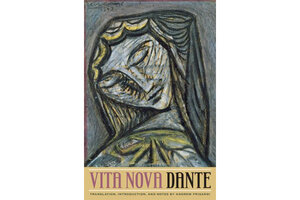 Reviewed by Adam Kirsch for The Barnes & Noble Review
"In the book of my memory – the part of it before which not much is legible – there is the heading Incipit vita nova." "A new life begins": with this phrase, Dante Alighieri launches the tale of romantic rapture, spiritual growth, and poetic education that is his Vita Nova. This short but complex book, Dante's greatest work before "The Divine Comedy," has been freshly translated by Andrew Frisardi for a rich new edition (Northwestern University Press).
The catalyst of Dante's new life, which began at the precocious age of nine, was his first vision of Beatrice, a girl just a little younger than he was, wearing a "dignified" crimson dress. At the moment he saw her, Dante writes, he heard three messages from deep in his own body. "Here is a god stronger than I, who comes to rule me," said his heart; "Your beatitude has now appeared," said his brain; while his stomach lamented, "What misery, since from now on I will often be blocked in my digestion!"
This mixture of the romantic, spiritual, and bodily dimensions of love marks the "Vita Nova" as the product of a time very different from our own. Where today a young man might speak of falling in love, or simply feeling desire for a woman, to Dante the encounter with Beatrice is an ascent on the ladder of love that Plato described: it begins with the body and ends as a divine vision. Literally so, in Dante's case: as any reader of "The Divine Comedy" will remember, Beatrice resurfaces in that poem as Dante's guide to Paradise. This emphasis on the philosophical and spiritual rigors of love is what sets Dante apart from Petrarch, whose adoration of Laura belongs to the same medieval romantic tradition.
---