Listening and Longing: Music Lovers in the Age of Barnum
Daniel Cavicchi takes a detailed look at 19th-century music consumers.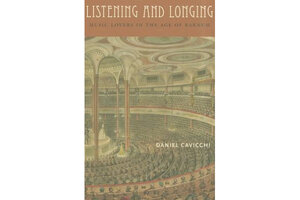 Reviewed by Robert Christgau for The Barnes & Noble Review
Music was booming in America well before Edison's 1877 invention of the phonograph transformed it into a utility as ubiquitous as electricity and flush toilets, which took about 50 years. By 1900 there were symphony orchestras in Pittsburgh and St. Louis, opera houses in Newberry, South Carolina, and Central City, Colorado, and added to these exceptional cases were countless theaters in which music of every kind was performed willy-nilly, often on the same bill. In 1870, American strivers bought 80 home pianos daily and filled their benches with sheet music; a decade later, local brass bands were epidemic as sales of cornets and trombones skyrocketed. Yet because 19th-century America produced no opera or symphony composers of note, all this action is still ignored by a defensively snobbish American musicological establishment.
---