Beautiful Ruins
Jess Walter's new novel combines a pair of love stories, wicked comedy, Hollywood legend, and a poorly named hotel.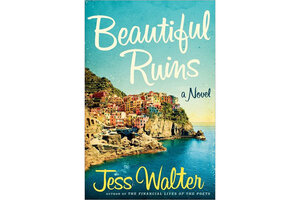 By Katherine A. Powers for The Barnes & Noble Review
Jess Walters' sixth novel combines black comedy and two love stories in such a devious, time-hopping way that coming to understand what's going on in Beautiful Ruins brings the thrill of epiphany. This is partly a narrative ploy for creating mystery and suspense, and partly a reflection of what I take to be Walter's view of the 20th and 21st centuries, a world in which reality, so-called, is expertly manipulated by powerful interests. Walter conveyed this pervasive and insidious control most brilliantly and disturbingly in "The Zero," and he does so again here, though with more of an eye to laughter than horror.
We begin – though of course it is not the beginning – in 1962, in a tiny, isolated Italian fishing village, a place so quiet that "only death was quieter." Here Pasquale Tursi is trying, with unwarranted optimism, to create a sandy beach and tennis court to attract tourists to his family's little pensione, the unpresumptuously named Hotel Adequate View. To his and the village's astonishment, a young and impossibly beautiful American woman arrives, ferried in on a boat. She is dying, she has been told, of cancer. Her story and Pasquale's make up two of the book's intermittently surfacing threads.
Meanwhile – though of course it's not meanwhile but next up – 28-eight-year-old Claire Silvers is in present-day Hollywood, steeling herself to dump a deadbeat boyfriend and to quit her job as assistant to producer Michael Deane. The latter, once a major figure in Hollywood, is now reduced to producing a "reality" show called "Hookbook," twinned to a dating site called Hookbook.net in "a steaming pile of TV/Web synchronicity." He is a shuffling, 70-year-old man to whom the dark arts of cosmetic surgery have given "the face of a nine-year-old Filipino girl." A miracle of crassness and opportunism, he brings perfect joy to the reader every time he appears.
---