Subversives
'Subversives' takes a deep and troubling look at Reagan's handling of the civil unrest in Berkeley in the 1960s.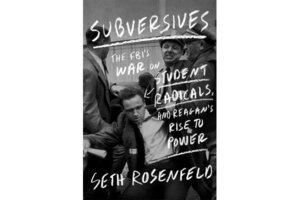 In case you've forgotten or are too young to know, the 1960s were the template for today's political divisiveness. In Subversives, Seth Rosenfeld chronicles how the abyss formed. His book is crucial history. It's also a warning.
In this work about unrest at the University of California Berkeley, Rosenfeld tells the stories of the frail, impassioned student leader Mario Savio; the measured but liberal Berkeley president Clark Kerr; and Ronald Reagan, the B-actor who, with the secret help of FBI Director J. Edgar Hoover, polished the conspiratorially based law-and-order message he formulated in the '40s as the rabidly anti-Communist head of the Screen Actors Guild to become governor of California in 1966.
Reagan is a hero to today's GOP, which regards him as sunny, even moderate, but the way he handled unrest at UC Berkeley was cunning, vindictive, and excessive. Rosenfeld's interviews with participants in student uprisings at Berkeley in the '60s and with Reagan's associates depict this avuncular icon as ready and all too eager to crush dissent in the name of protecting American values.
A former investigative reporter for the San Francisco Chronicle, Rosenfeld spent decades accumulating this material, filing Freedom of Information Act requests that prompted the FBI to spend more than $1 million beating back his demands until it grudgingly released more than 250,000 pages of files. Rosenfeld has an agenda in this book of patience and passion: setting straight a previously hidden – and consequential – record. The way his stories converge evokes "They Marched Into Sunlight," David Maraniss' similarly structured 2003 book about a Vietnam War firefight.
---