The Dictator's Learning Curve
Journalist William Dobson looks at the 'nimble' tactics of autocrats in an age of social media.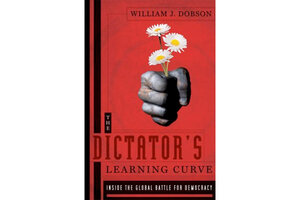 These days, "Big Idea" books sell. In William Dobson's case, he traveled 93,268 miles and collected 200 interviews to back up his big idea: that dictators today are more nimble about being autocratic than their predecessors. The Dictator's Learning Curve: Inside the Global Battle for Democracy examines the process by which the Stalins of the world have given way to Putins, leaders adept at "skillful new forms of authoritarianism that blurred our definitions of democracy and dictatorship."
But this idea isn't nearly as interesting as the individuals and immersive experiences Dobson renders in its support.
In Venezuela, Russia, China, and Egypt, Dobson finds variations on this theme. The Russia of Vladimir Putin has successfully co-opted nongovernmental organizations, or NGOs, with a system of GONGOs – government-operated nongovernmental organizations. The linguistic absurdity does nothing to inhibit their power: Set up to look independent, they actually "soak up foreign funding from genuine NGOs and confuse the public about who is in the right, the government or its critics."
In Venezuela, Hugo Chávez demanded the names of the 3 million people who'd voted to hold a recall on his presidential election, ostensibly to check for forgeries. The list was published by Mr. Chávez's campaign manager. The health minister then promised to fire any doctors or nurses whose names appeared on the list; the head of the state oil company said he expected to sack employees who'd signed; and a 98-year-old woman was denied health services because she'd signed the referendum.
---