Little America
'Imperial Life Emerald City' author Rajiv Chandrasekaran employs excellent reporting and vivid writing to tell ugly truths about the fighting in Afghanistan.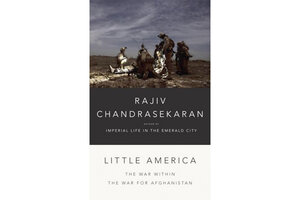 Year after year, American journalists risk their lives to enter nations invaded by the United States, hoping to learn the truth about war. During the early years of this century, Washington Post reporter Rajiv Chandrasekaran risked his life traveling throughout Iraq. His excellent reporting exposed the outright lies, half truths and self deceptions being disseminated by President George W. Bush, his civilian government appointees and his military commanders. The reporting resulted in the book "Imperial Life in the Emerald City," published six years ago.
With the mostly disastrous American presence in Iraq diminishing, Chandrasekaran turned his attention to Afghanistan. His travels there included time spent in combat with the Second Marine Expeditionary Brigade, as well as hanging around command headquarters. His new book, Little America: The War Within the War for Afghanistan, is rough on the Bush administration (again), but even rougher on President Barack Obama, his civilian government appointees, and his military commanders. By any measure, based on Chandrasekaran's findings, the war has wasted military and civilian lives with almost no positive outcomes.
---