Where the Bodies Are Buried
This mystery is rooted in Glasgow's past.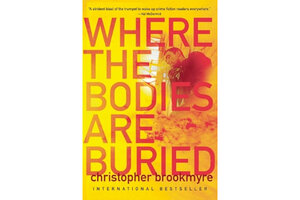 By Anna Mundow, for The Barnes and Noble Review
The title of a Christopher Brookmyre novel often tells you a lot. "All Fun and Games Until Somebody Loses an Eye," for example, or "A Big Boy Did It and Ran Away" seem to promise anarchic violence, quirky characters, and ironic humor. Tough Scottish humor, as it happens, leavened with Elmore Leonard-like flourishes. Brookmyre's latest novel, Where the Bodies Are Buried, sounds straightforward by comparison, and thankfully it is. Brookmyre is at his best when he writes plainly instead of straining for noir effect.
Here he first describes his city, in summer. "It didn't seem like Glasgow," he writes, "...the clouds had rolled in on top of a sunny day like a lid on a pan, holding in the warmth, keeping hot blood on a simmer." He then introduces the city's leading gangsters as they stand around a beaten drug dealer who is about to be shot in the head. There is Big Fall, Wee Sacks, and the Gallowhaugh Godfather, who looks "older even than his scarred and lived-in face would indicate; a face you would never get sick of kicking."
---