Grandad, There's a Head on the Beach
Sassy crime reporter Jimm Juree returns in Colin Cotterill's new mystery series set in Thailand.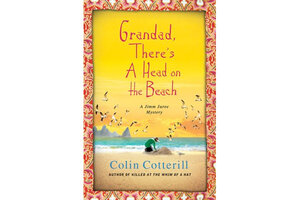 By Peter Lewis, for The Barnes and Noble Review
For those coming late to the Colin Cotterill show, take a seat and let me catch you up on what you've missed. The author started a mystery series back in 2004 featuring Dr. Siri Paiboun, septuagenarian and solitary coroner in the newly Pathet Lao'ed Laos of the later 1970s. Siri is a veteran of the insurgency, but freethinking, which befits someone whose body, much to his surprise, hosts an esteemed shaman as old as the millennium. Siri has little to no governance over his spiritual experiences – they are unruly, sublime to murderous, but educational – though, as a coroner, he maintains a seasoned composure before the nasty mortal mysteries that have become his lot over the course of seven novels, many associated with the farcical operators of the dawning, "socialist" Laos. We have met the enemy, you bet; yet Laos is in good, atmospheric hands with Cotterill.
Last year, in "Killed at the Whim of a Hat," Cotterill introduced a new series and crime-reporter Jimm Juree, a young woman of brains and journalistic ambition whose occasionally, inconveniently addled mother sold the family fortune and her daughter's ascendant future in up-country Chiang Mai, Thailand, and moved her family to the low-country south, to the tumbledown Gulf Bay Lovely Resort and Restaurant, sitting on a sliver of land between a devil river and the deep, gray sea. Here monsoon winds bring scads of garbage – and the stray body part – to the beach. A head, for instance, as in Grandad, There's a Head on the Beach.
---